Our "Imperial" Civil Marriage Montreal Wedding – Civil Marriage Celebration Hall in Montreal
Civil Marriage Montreal Notary – Celebrating Civil Wedding in Montreal and Civil Union – Best Notary Wedding Officiant
*Celebrate love, celebrate life in front of a notary civil wedding officiant in Montreal (Quebec); cheap, Mtre Leopold Lincà  notary in Montreal, specialist in civil marriage in Montreal, accumulated years of experience with the latest trends. Your civil wedding celebration – guaranteed in 21 days after the first meeting.* Your civil wedding celebration in Montreal (Quebec) deserves to be unforgettable! Make your wedding dreams come true WITH US!
Civil marriage, in order to be valid, must be celebrated by a marriage celebrant recognized by law, therefore a
"competent"
celebrant. Mtre Leopold Lincà  Notary and wedding officiant celebrate a civil marriage in Montreal; he offers you his services, a personalized wedding ceremony in his two marriage celebration rooms. For most people, there is no moment more precious in their life than the celebration of their marriage.
Celebration civil wedding of the civil marriage in Montreal before the notary wedding officiant. Montreal Civil marriage celebrant ( wedding officiant) and civil union celebrant in Montreal, Laval, North Shore, Longueuil, South Shore, Brossard, Mtre Leopold Lincà, notary and marriage officiant with a lot of experience, have been helping couples tie the knot for years. He offer marriage celebration services to suit all couples – whether you're eloping last minute or have been planning your dream wedding for years – and all include your peace of mind.
We understand this importance and that is why we offer you a celebration adapted to your style. To simplify things, we are moving for the celebration of your union instead of your choice or the following regions: Montreal, Quebec, Rivière des Prairies, Laval, North Shore, Mirabel, Dorval, Saint-Hilaire, Lachine, Lachenaie, Terrebonne, Beauceville, Laurentides, Montéregie, Bécancour, Beloeil, Boucherville, Blainville, Delson, Candiac, Chambly, Carignan, Richelieu, La Prairie, Marieville, Drummondville, Granby, Mascouche, Joliette, Boisbriand, Levis, Lorraine, Lotbinière, Magog, McMasterville, Mercier, Mirabel, Repentigny, Sainte-Thérèse, Rosemére, Sherbrooke, Sorel-Tracy, St-Amable, St -Apollinaire, Sainte-Basile-le-Grand, St-Bruno, St-Constant, St-Hubert, Saint-Jean-sur-Richelieu, Sainte-Eustache, Deux-Montagnes, Sainte-Anne-des-Plaines, Sainte-Julienne , L'Épiphanie, Berthierville, Châteauguay, Saint-Jérôme, St-Lambert, St Catherine, Ste Julie, Ste Sophie, Trois-Rivières, Valleyfield, Varennes, Vaudreuil-Dorion, Victoriaville. For your civil marriage – wedding celebration or civil union contact Me Leopold Lincà notary wedding officiant.
For most people, there cannot be a more precious moment in their life than the celebration of a civil wedding, their wedding ceremony and, in general, all the preparations regarding their civil marriage.
Choosing a professional wedding officiant at an affordable price who can offer you customized rates for his services is an important step in carrying out your project for a dream civil marriage and for a personalized wedding ceremony.
The wedding officiant should be able to ensure you have the best memories of this unique day.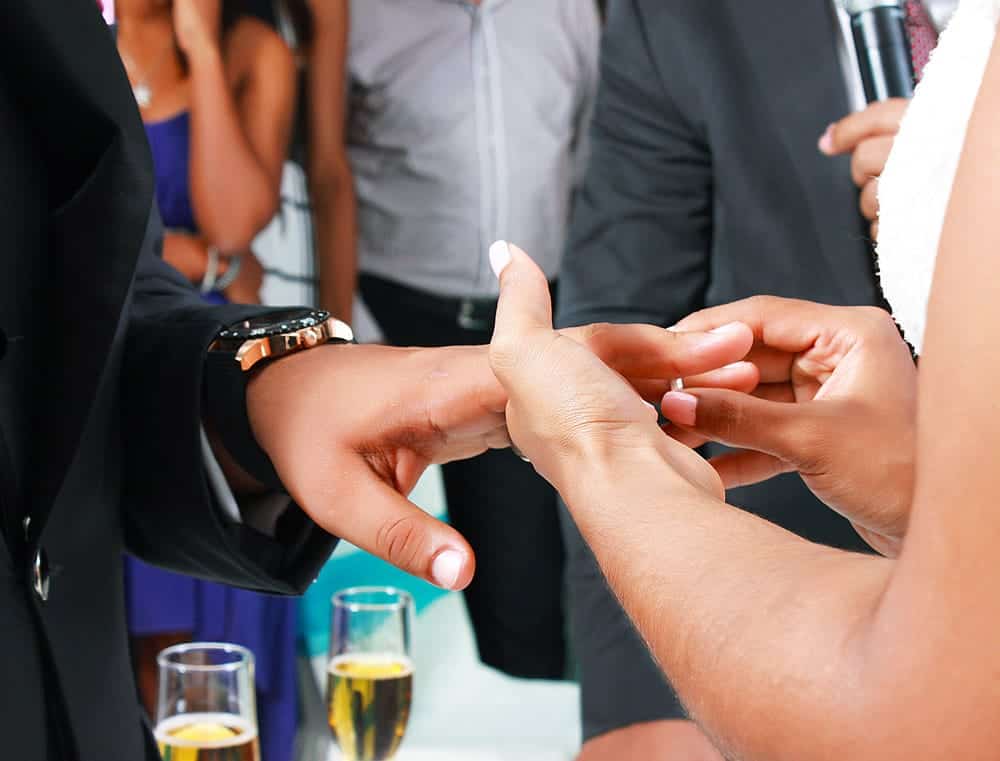 Who can celebrate civil marriages in Quebec except the notary?
THE NOTARY AS OFFICIANT
When two people wish to marry civilly, they must first choose a competent officiant. This is an essential condition for the validity of the marriage. Since 2002, couples have been able to solemnize their union before a notary in a wedding, civil marriage ceremony.
Quebec's justice minister: allows only the following people to perform a civil marriage: clerks and deputy clerks
The clerk or the assistant clerk of the Superior Court may celebrate a marriage or a civil union in a courthouse or in the places referred to in articles 4 and 5 of the Civil Code of Quebec, notaries who are authorized by law to prepare notarial acts, mayors, members of municipal or borough councils and municipal officers for marriages performed in the place authorized by Quebec's justice minister (usually their municipality), any other person who obtains permission from the justice minister, such as a friend or family member of the future spouses.
Mtre Leopold Lincà is your best choice for your civil marriage officiant notary.
What are the steps you need to follow to get married or to get civilly united?

The first meeting with the wedding officiant
After selecting a wedding officiant who meets your needs, you will have to make an appointment with him in order to learn more about the rights and the responsibilities of the spouses, the matrimonial regimes and about the marriage contract.

The wedding officiant will have to make sure that the future spouses fulfill the legal requirements in order to get married:
They are at least 16 years old (for the marriage) and at least 18 years old (for the civil union), according to the birth certificate or to a copy of the birth certificate; in case one of the future spouses is aged between 16 or 17, may marry with authorization from the court, but cannot form a civil union;
Both future spouses must have been released from the protection regime, if necessary;
They are not already united by another civil marriage or by a civil union bond;
There are no family ties between the future spouses which would prohibit the civil marriage.
Once these conditions are met and validated, the wedding officiant will publish the act of publication of a civil marriage, according to the Civil Code of Quebec, which requires that future spouses who get married or unite civilly make the event public by posting their intention to unite at the place of the ceremony and at the nearest Palace of Justice.
The posting of the bans must take place at least 20 days before the date which has been set for the marriage or for the civil wedding or civil union ceremony, but not more than 3 months in advance. There are cases in which a dispensation of publication may be granted by the wedding officiant because of certain moral or humanitarian impediments.

The civil marriage or civil union ceremony

On the date which has been established during the first meeting, the future spouses and their close ones will participate at the wedding ceremony at the place of their choice (in this case, if they have a notary as their wedding officiant).
What does a marriage ceremony or a civil union ceremony imply?
All wedding celebrants approved by the Minister of Justice must respect certain steps during the marriage ceremony. Thus, the officiant of the civil marriage will have to read (in French or in English) to the future spouses the articles 392 to 396 from the Civil Code of Quebec, in the presence of two witnesses. Then, each of the two future spouses must express their free and well informed personal consent.
The wedding ceremony will continue by the time the future spouses sign the Declaration of Marriage or the Declaration of Civil Union, followed by their witnesses.
The wedding officiant will subsequently provide them with a copy as proof of civil marriage or civil union and he will also send, without delay, the Declaration of Marriage or Civil Union to the Director of Civil Status. The wedding officiant will have to send within 8 days after the ceremony the Marriage or Civil Union Bulletin to the Institute of Statistics from Quebec.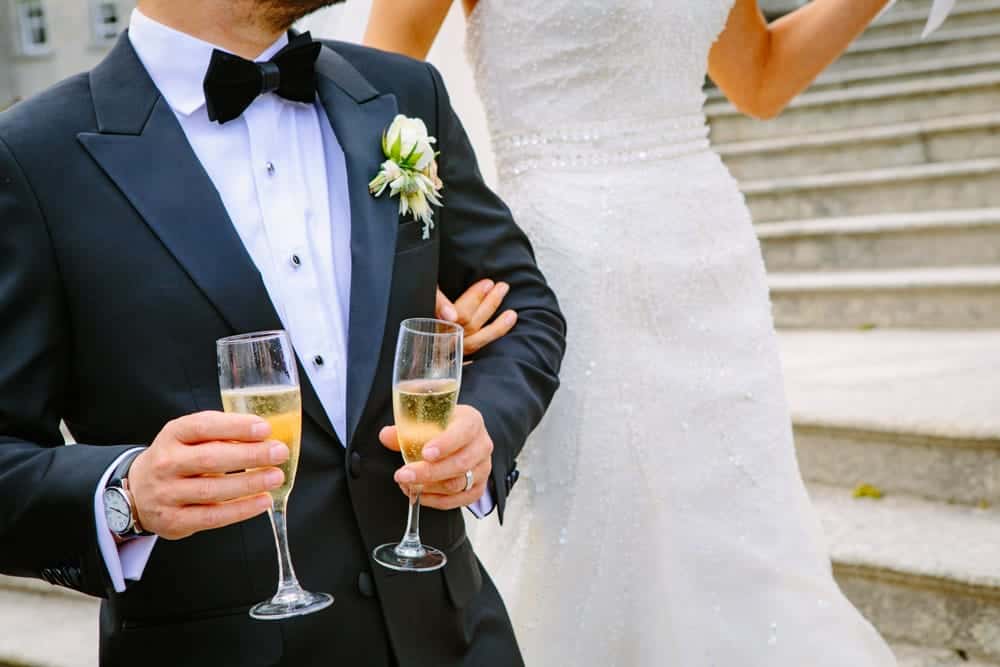 How to customize your civil wedding or civil union ceremony?
If you choose a notary wedding officiant, you will have the opportunity to get married according to the requirements of the law, and to additionally add your personal touch to the ceremony. All this is possible because the notary is flexible regarding the location of your wedding ceremony and this place can range from an elegant ceremonial room which is made available by the notary at his office to a place of your own choice such as a beach, a park and so on. In addition, the wedding celebrant can also offer you various wedding themes, depending on your traditions and personal history.
Enjoy an unforgettable ceremony by celebrating your civil wedding or civil union in front of Mtre Leopold Lincà, notary in Montreal, who will be more than happy to organize a wedding ceremony according to your wishes, at an adjustable fees and a reasonable total cost and which will turn out to be an exquisite moment for you and for your loved ones.