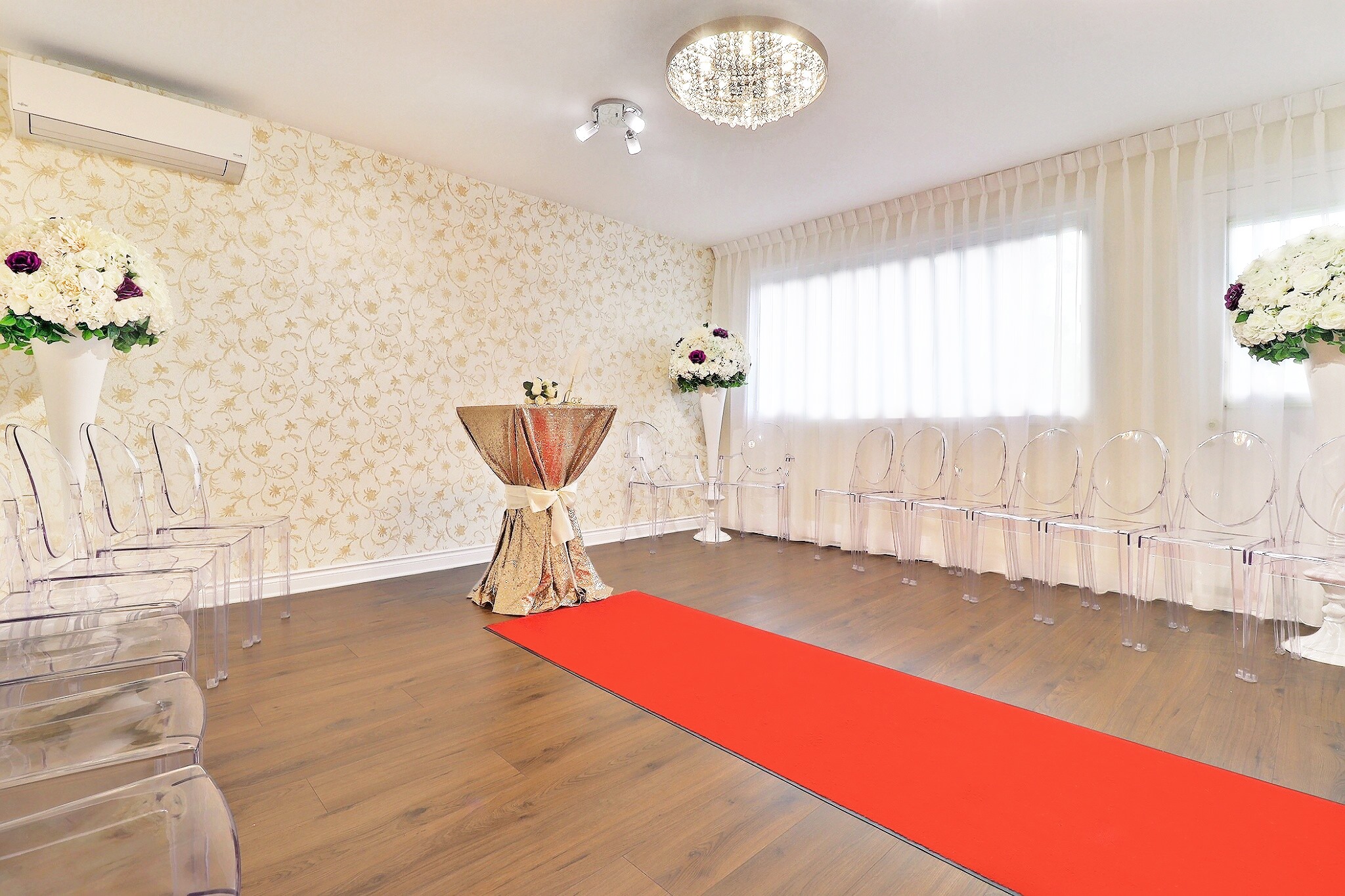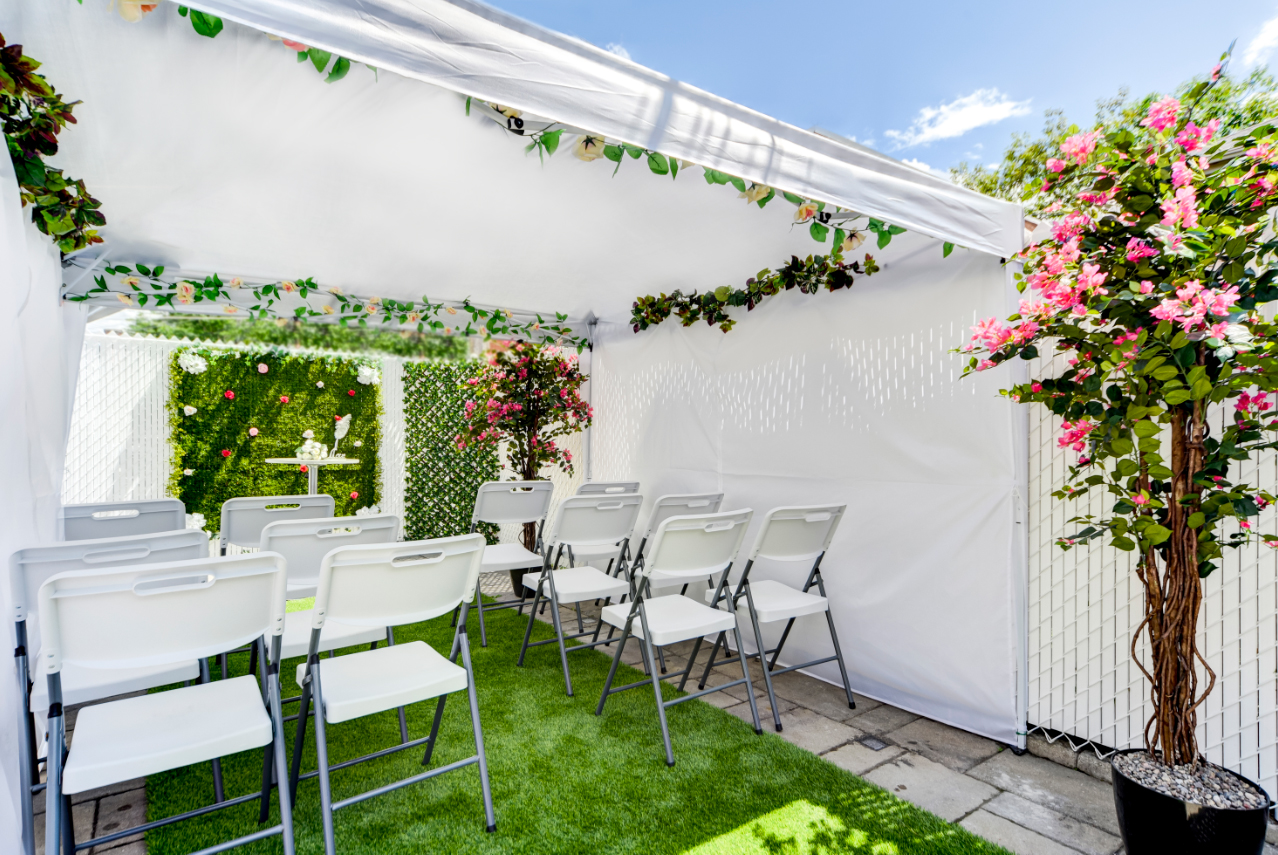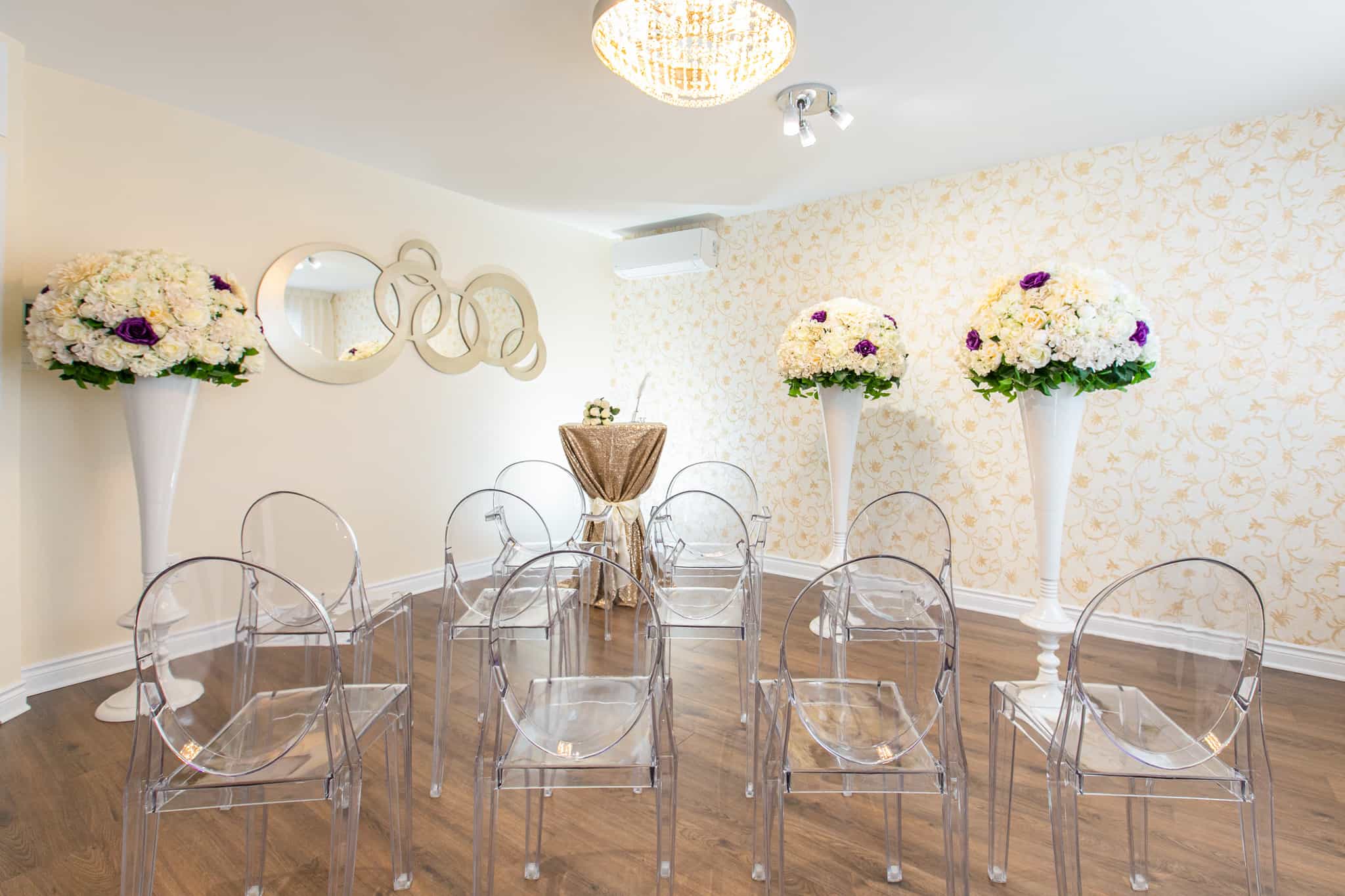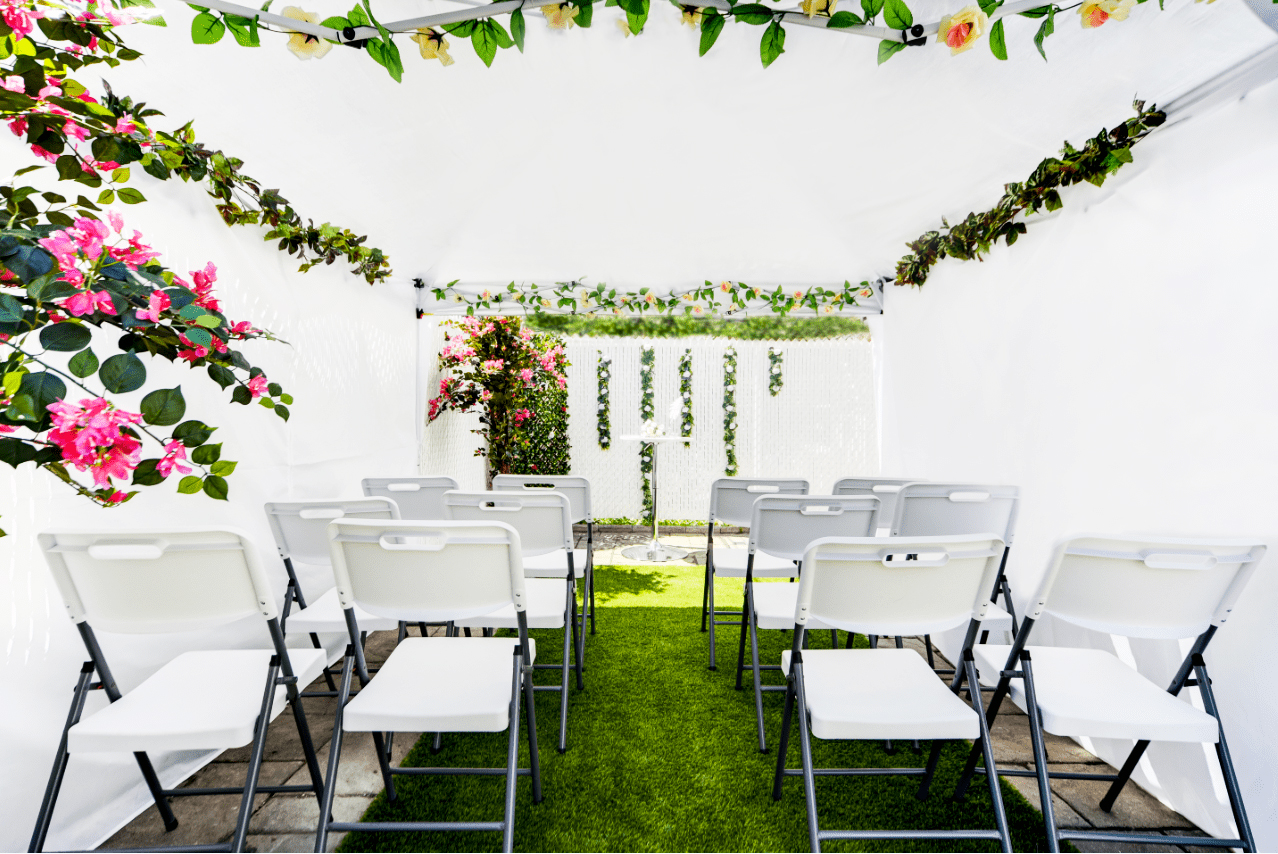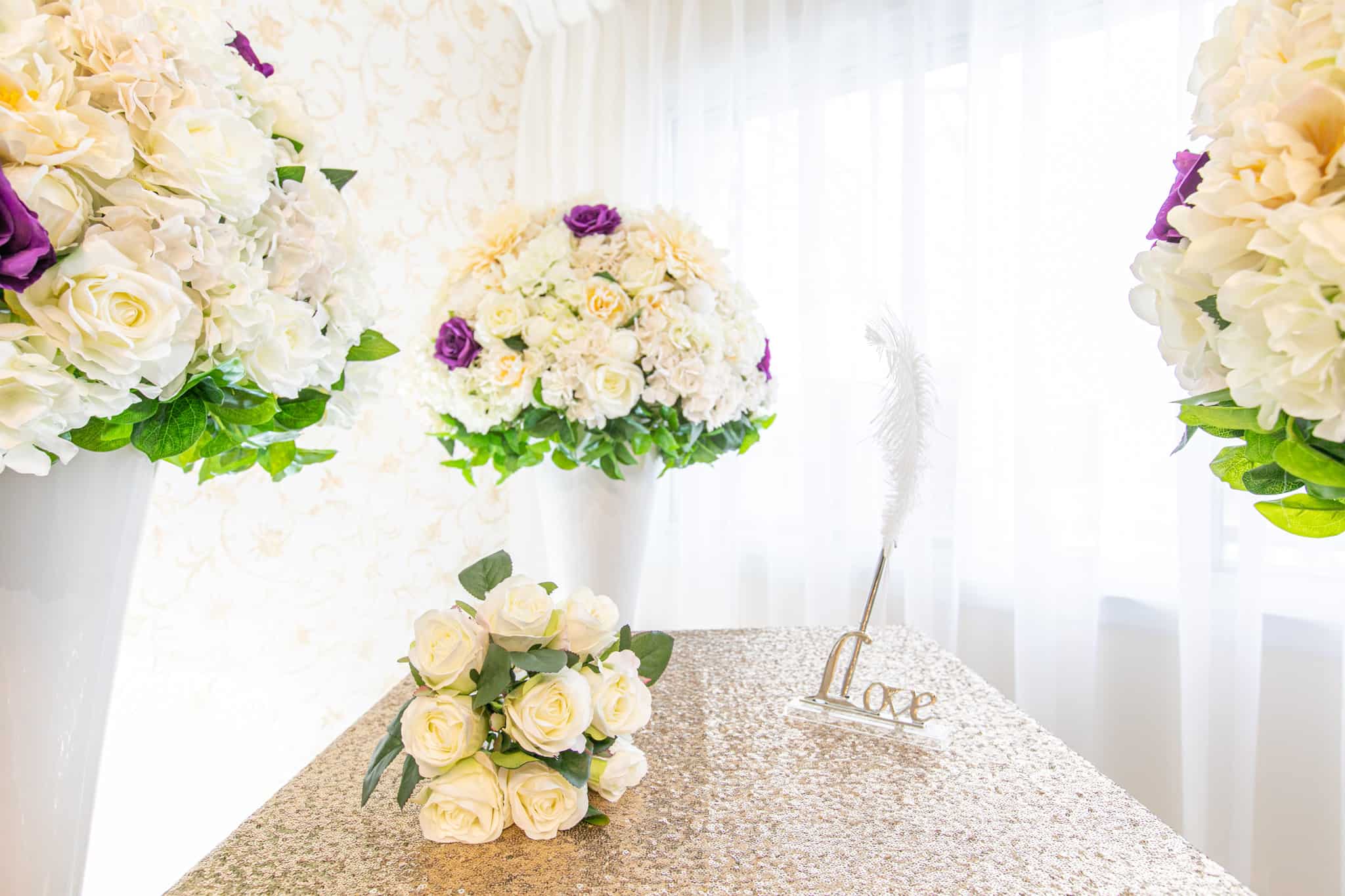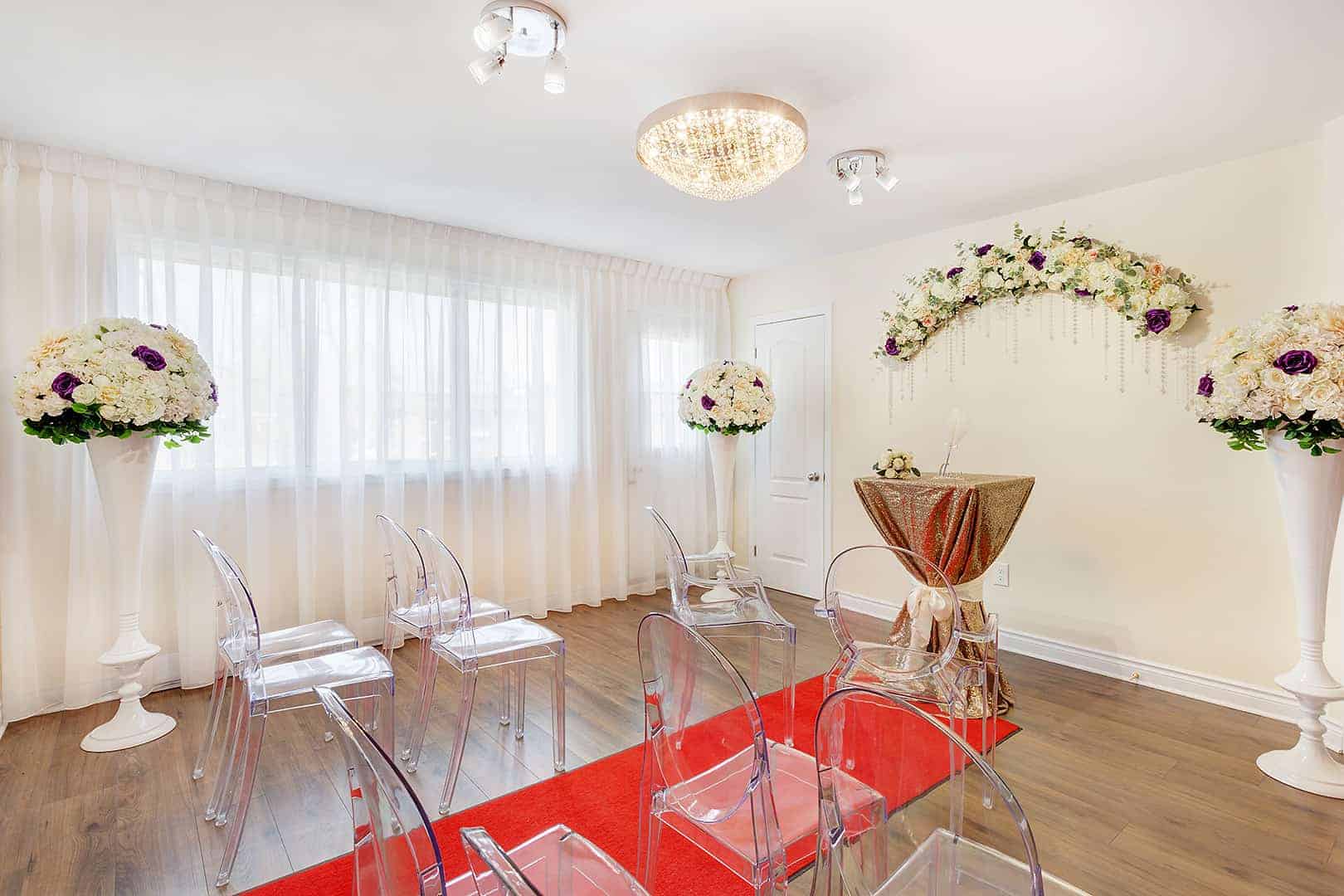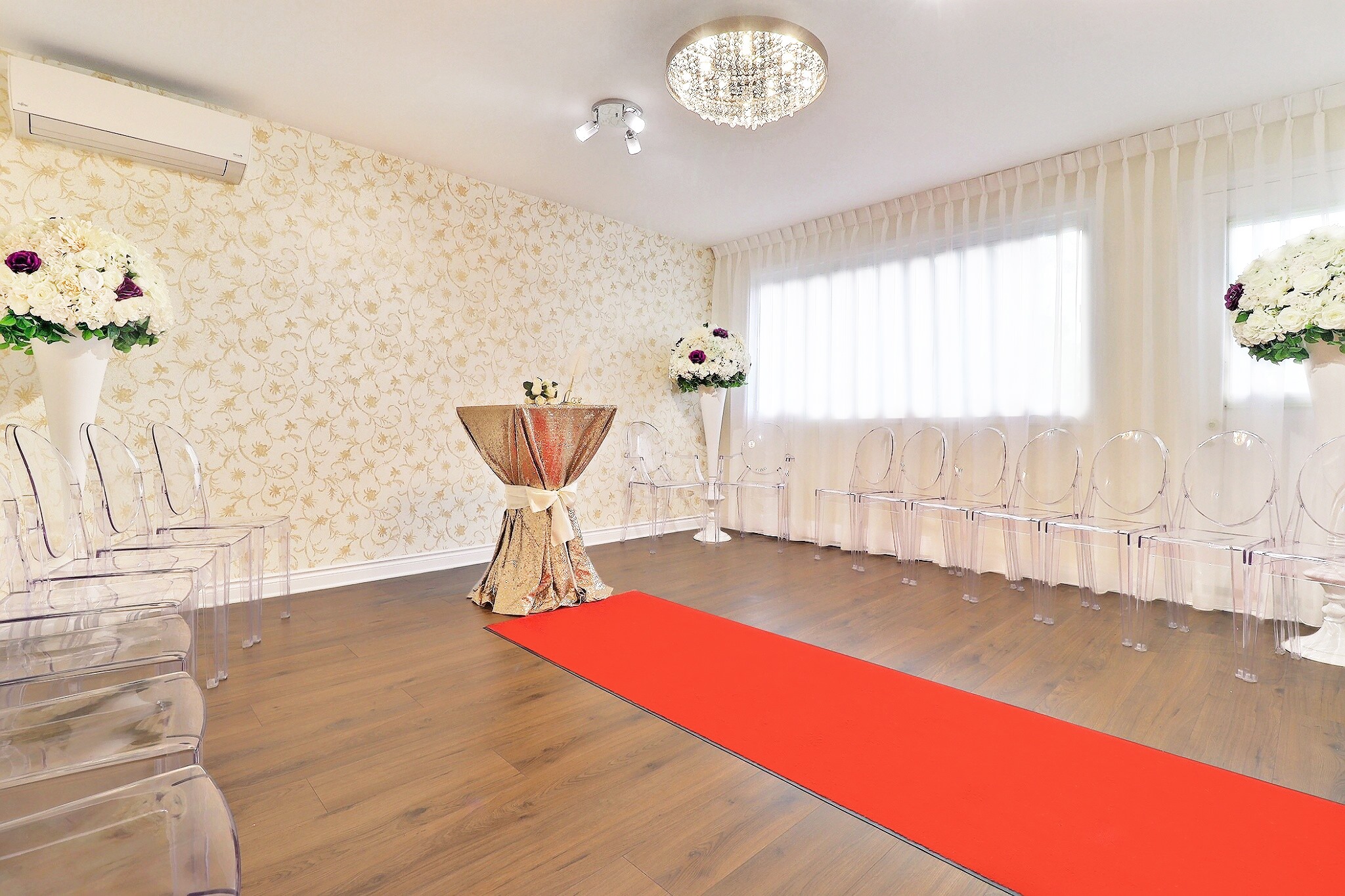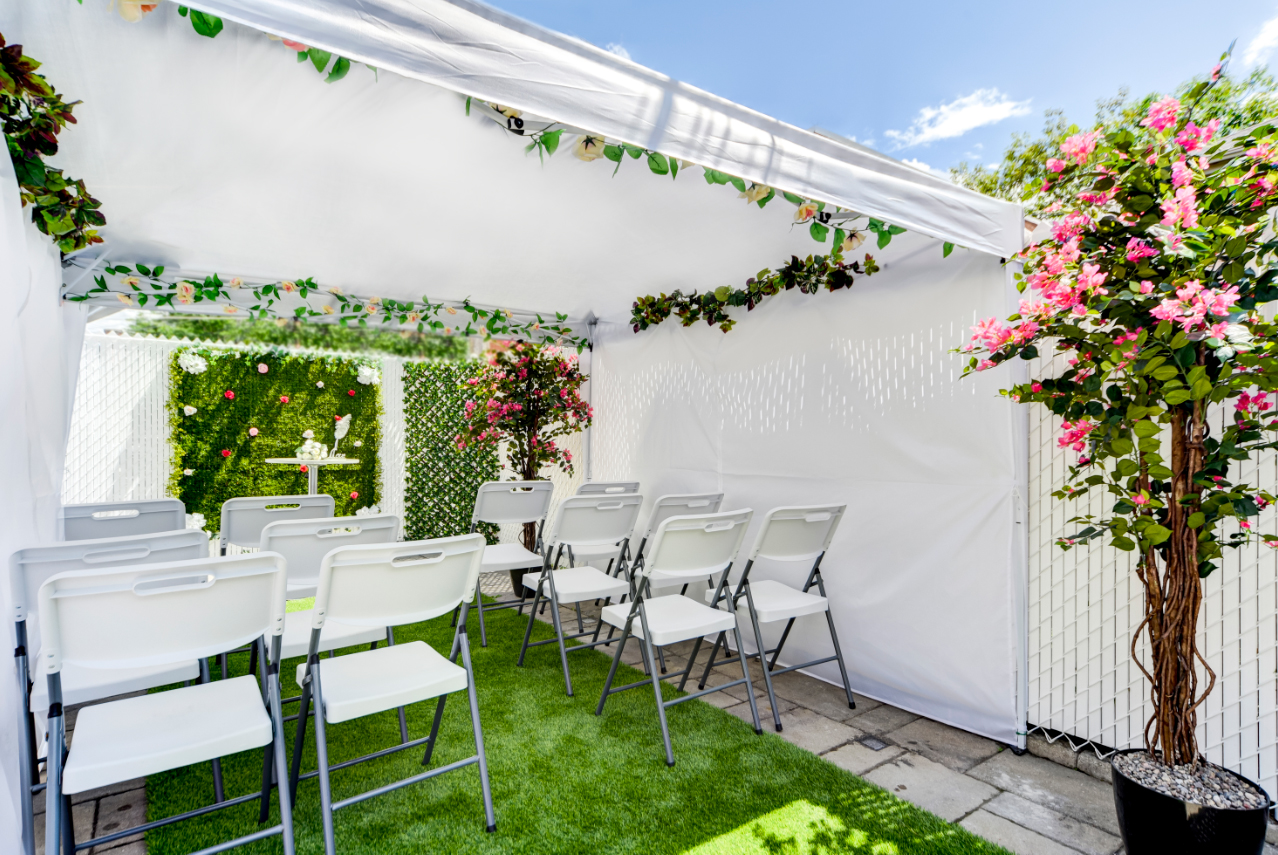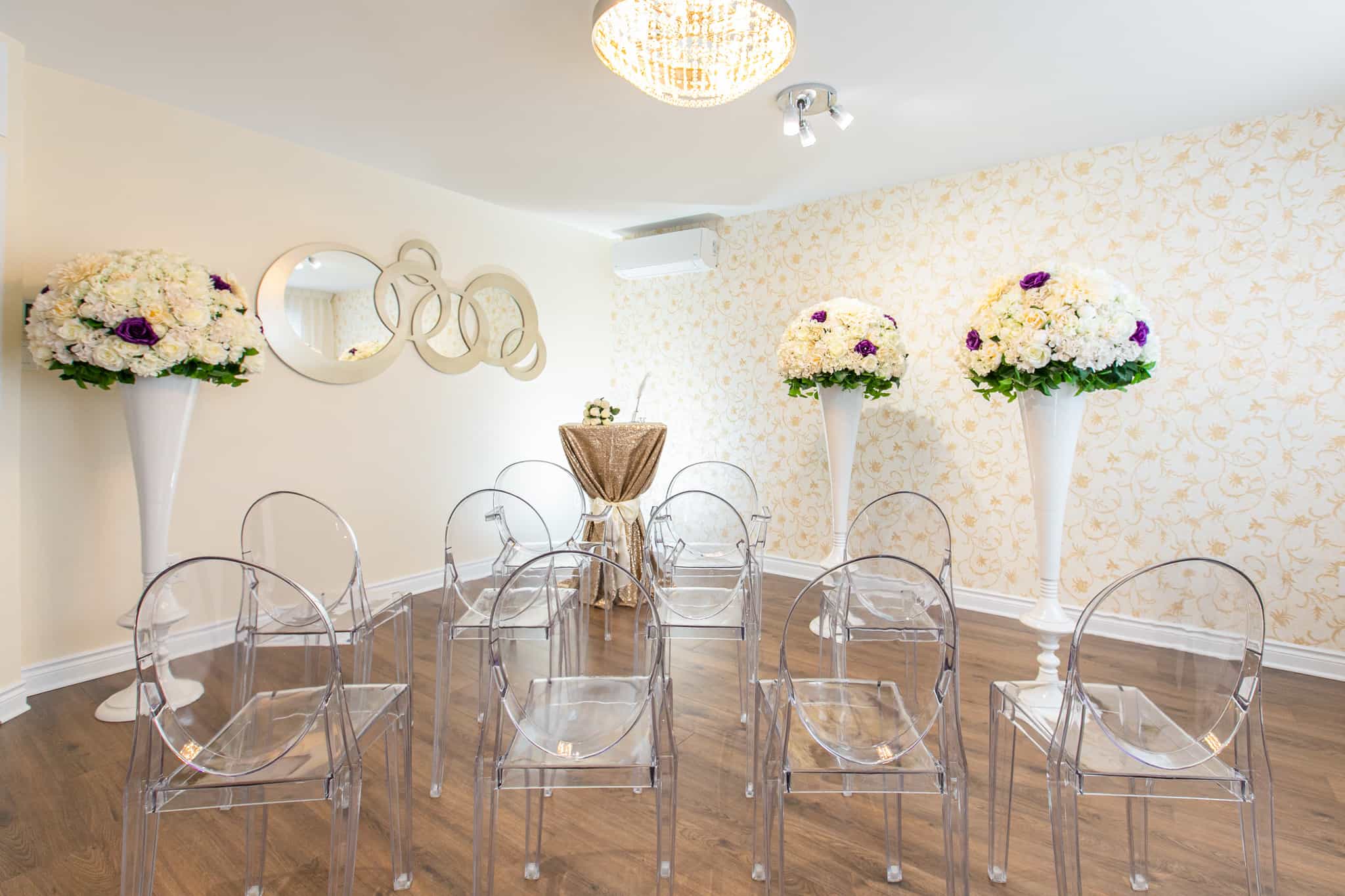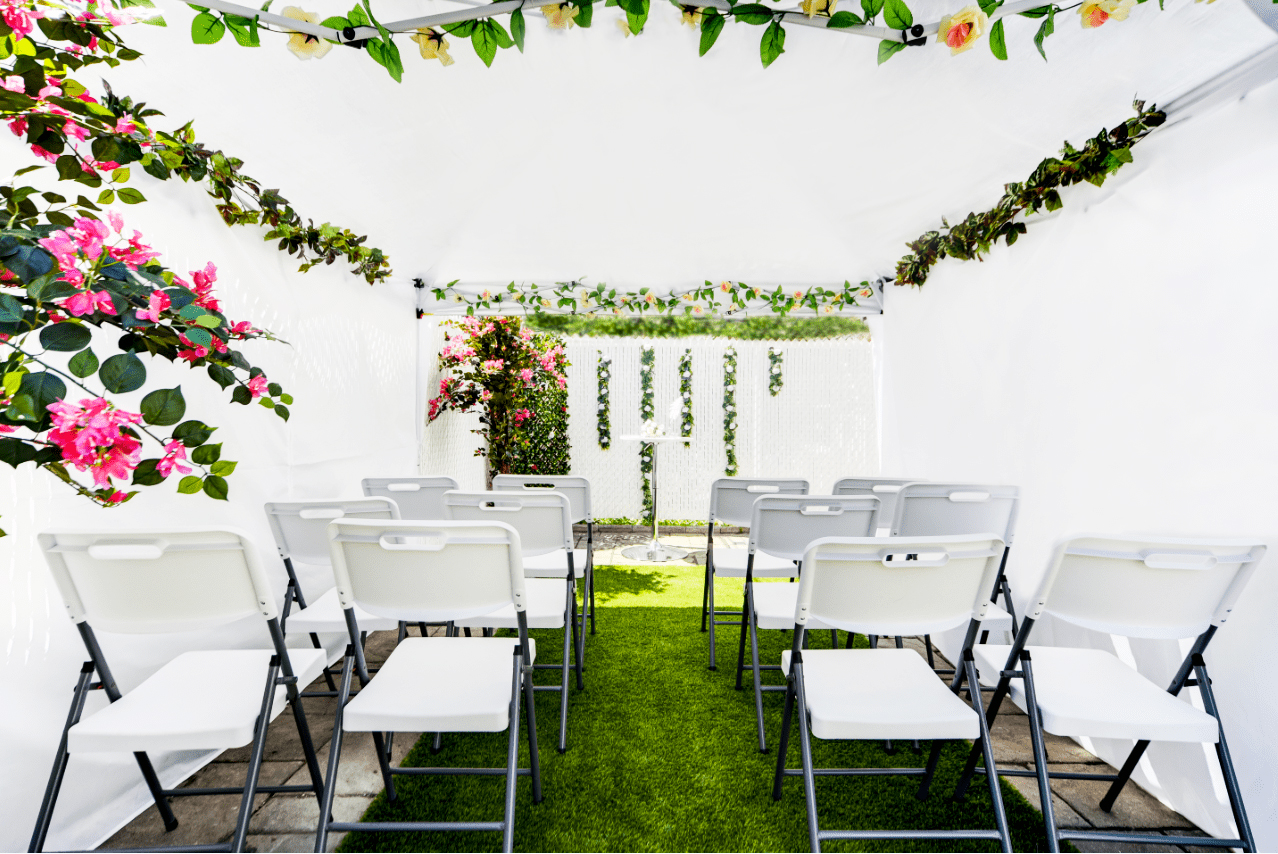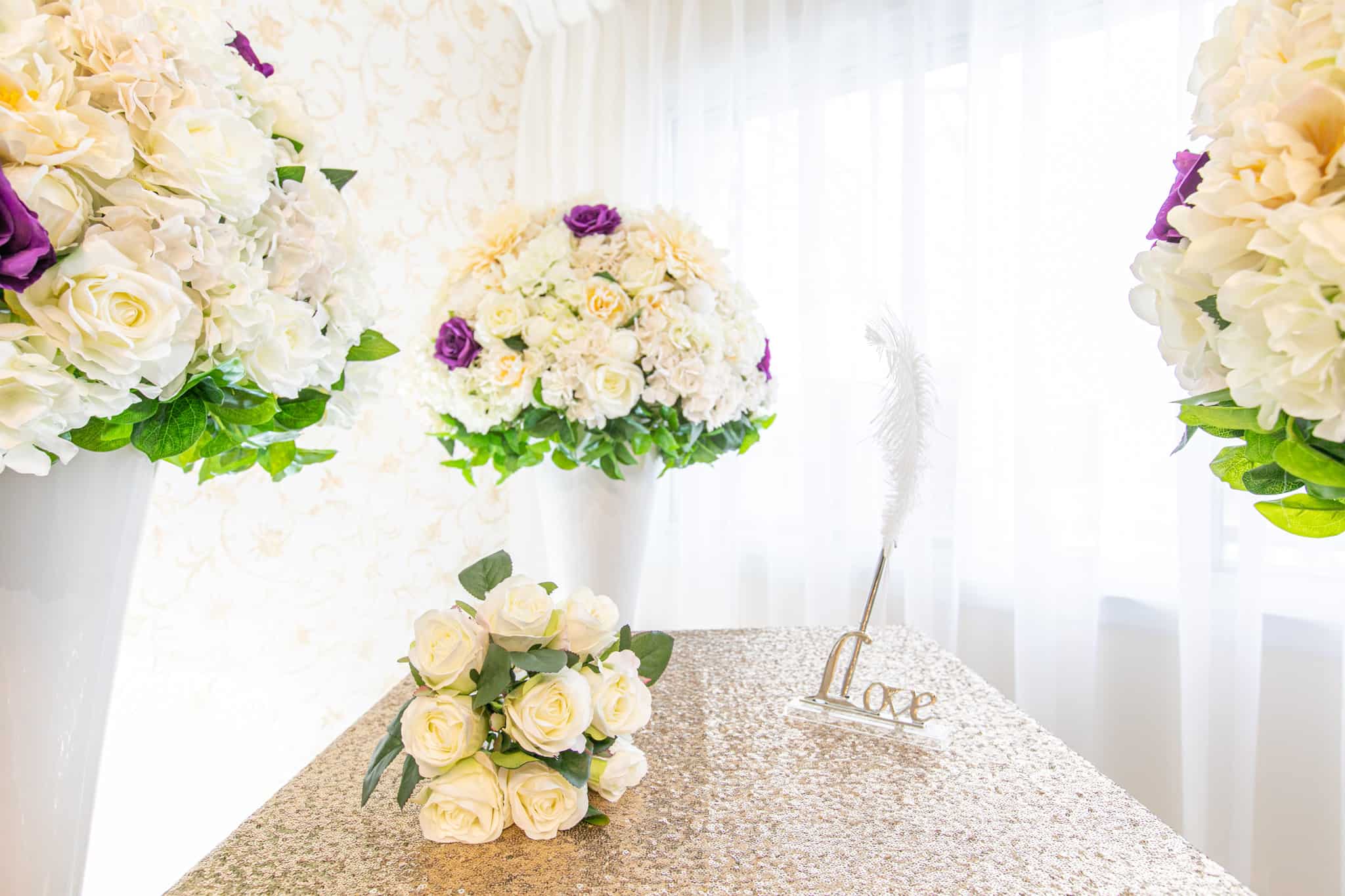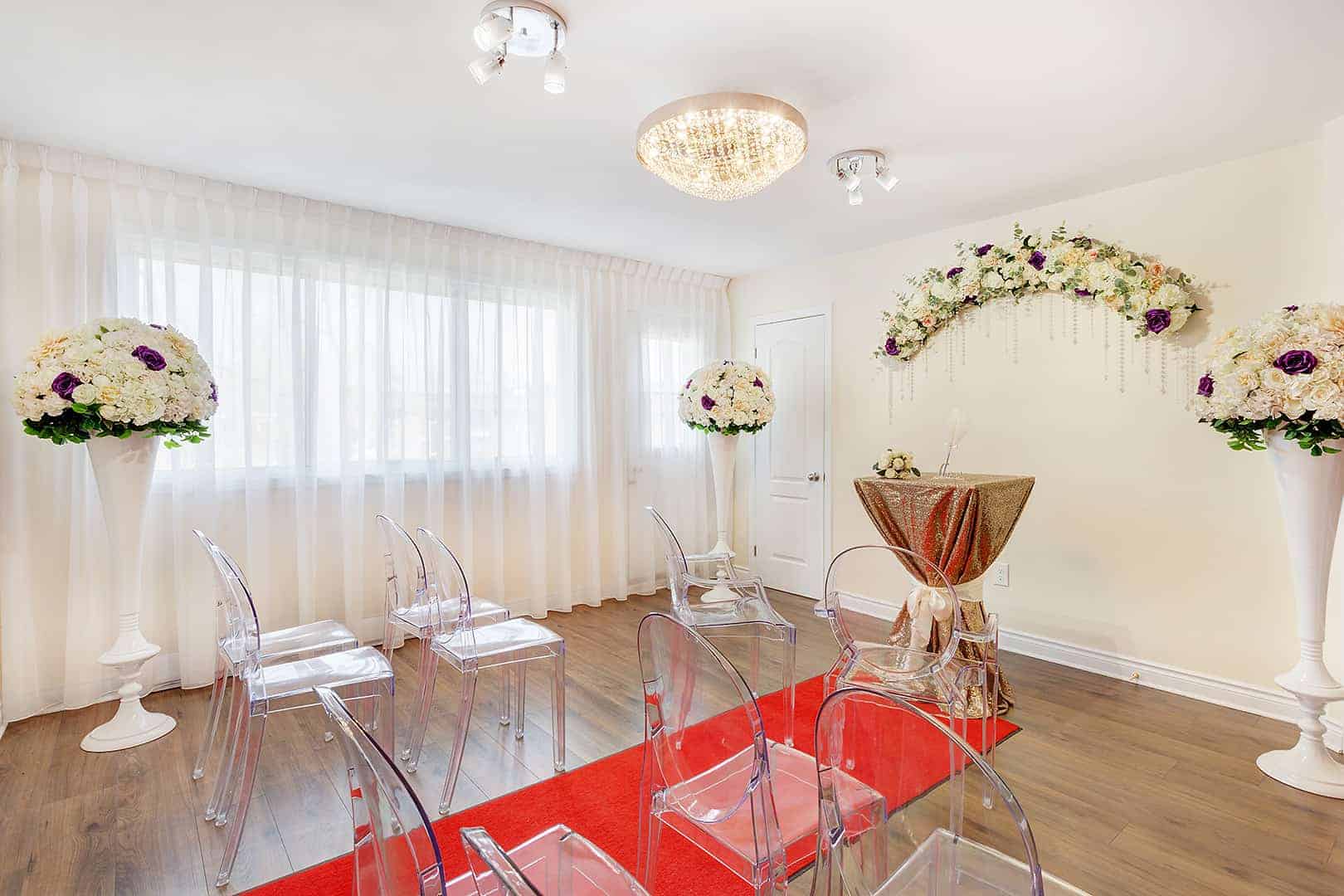 Your civil marriage will be celebrated in one of our elegant wedding celebration hall or our courtyard "Radiant Gardens" in Montreal, with our affordable packages
Wedding celebration halls, at your disposal, during the ceremony of your civil marriage or civil union
Civil marriage Montreal Notary, your civil wedding celebration in Montreal – Where can we get married in Montreal (Quebec)? This is an extraordinary refined place to celebrate a wedding, civil marriage in Montreal as fast as possible. Our civil marriage celebration rooms in Montreal  match the themes of your wedding; our civil union and civil marriage halls in Montreal are arranged accordingly to your needs and represent a solemn place, in conformity with the laws, as at the Montreal Courthouse, while being in a better decorated environment. We are proud to have two wedding ceremony rooms with unique ambient. Here is the description of our magnificent civil marriage celebration rooms in Montreal.
The "Royal" Room For Civil Marriage Celebration 
The "Royal" room is a well-decorated, illuminated, and intimate wedding celebration hall in Montreal that respects the solemn character of a wedding celebration and can accommodate 8 people including spouses. Your guests will be welcome to attend your wedding ceremony and accompany you to this happy event in your life!
The "Imperial" Room For Civil Marriage Celebration 
The "Imperial" room is a special wedding celebration hall in Montreal  designed for celebrating a wedding in a magical setting. Very well illuminated, decorated with crystals, gold embroidered tapestries, mirrors and floral arrangement, the Imperial Room can accommodate up to 20 people including spouses. Our Imperial Room of celebration is perfect for couples who want to share their wedding ceremony with more guests.
Welcome to guests of all the places, regions and cities of Quebec, Downtown Montreal, Montreal Old Port, Laval, Longueuil, Brossard, Terrebonne, Sherbrooke, Trois-Rivière, Lachine, Blainville, Mascouche, Repentigny, Rosemère, Saint-Eustache, Juliette, Saint-Jérôme, North Shore, South Shore and surroundings.
With exquisite attention for detail, we love to make our couples happy and give them the chance to relive the best memories of their lives again and again. So, we recommend a professional photographer for their civil marriage / wedding – Larisa Montreal Photographer
To celebrate your civil marriage, contact Mtre Leopold Lincà, notary and civil wedding officiant in Montreal, at 438-383-3116.
For a civil wedding ceremony full of sunshine, choose our courtyard "Radiant Gardens"
Getting married civilly in the summer allows you to enjoy a celebration outside thanks to the courtyard "Radiant Gardens" that offers you the Study Lincà.
You would like a civil wedding/civil maarriage celebration by a celebrant close to you and your guests but aspire to a rural, romantic, and festive atmosphere all at the same time? Look no further. Notary Lincà offers you to combine functional intimacy and romanticism in his courtyard "Radiant Gardens" capacity 20 people.
Its unique side will enchant you. The courtyard incorporates all the elements of an outdoor wedding to those more practical of a ceremony in the metropolis. You and your guests will not have to travel far to feel the charm of an outdoor ceremony.
The courtyard space "Radiant Gardens" is the conjugation of a civil marriage with luminous and floral sides in the image of the happiness of your union. Everything is planned so that your choice to marry outside is the right one. Our bright tent can accommodate up to twelve people including the celebrant.
The bright decor inspires the taking of beautiful photos of couples equally "radiant" for this extraordinary day of their lives.
By choosing "Radiant Gardens", you opt for the reunion of two worlds and for the alliance of nature and the city. The airy floral decoration is synonymous with intimacy and romanticism. You will be able to have a ceremony at the charm of the countryside, even in the heart of Montreal.
For a bucolic setting in the heart of the city, choose Étude Lincà, to celebrate your civil wedding and make these precious moments, unforgettable memories, and superb photos.
In addition, a touch of escape with heavenly and timeless accents that will delight you and your guests on this incredibly special day that you want as unique as your communion and your love.
Because your civil marriage photos will capture the precious moments of this solemn event, we offer you this ceremony hall as magical and unforgettable as your wedding.
With these photos, we present some of our happy married couples who made the excellent choice to have their civil marriage celebrated by the Lincà study