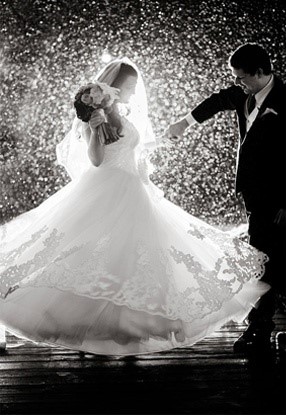 Getting civilly married in Montreal or elsewhere in Quebec in the rain. We have already talked about it, in Quebec, more civil weddings are held in the summer than all other seasons combined. Summer: the wedding season in Quebec
It is the perfect opportunity to get married with a civil wedding officiant, outside, if you wish. Summer means sunshine and good weather… Yes, but not always. If what's holding you back is the uncertainty of the weather on your big day, there are two important things to do.
The first is to plan ahead.
If you're getting married on the patio at an inn or restaurant, make sure you have an alternative, such as an indoor venue, in case of major inclement weather.
Or choose a partially covered location, such as Notary Lincà's "Radient Gardens" in Montreal space, which allows you to be outside, in a country atmosphere even in Montreal, and to be sheltered from a few drops of rain during your civil wedding celebration, at the same time.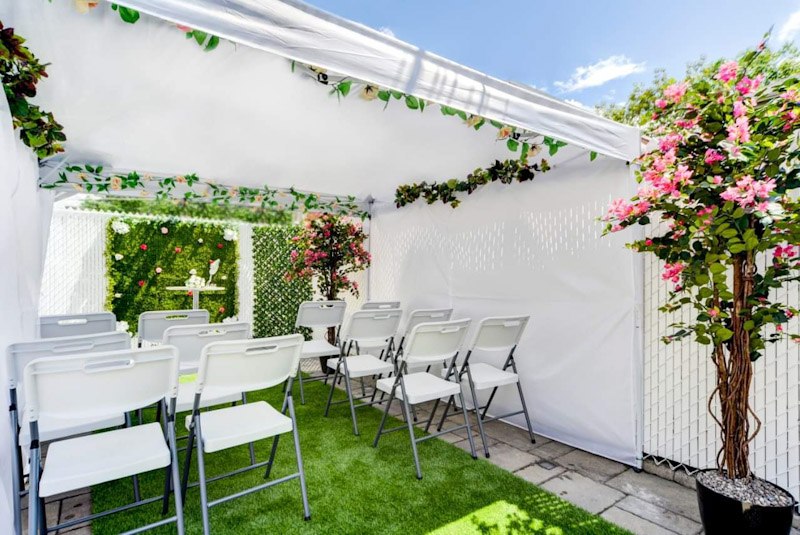 Getting civilly married in Montreal or elsewhere in Quebec in the rain. Which brings us to the second thing to do. And it's pretty simple. What if the weather forecast calls for unexpected rain, just for your civil marriage / civil wedding day, or a few drops start falling in the middle of your civil wedding celebration? There is only one thing to do and that is to do nothing. Other than to get out your pretty umbrellas.
As the saying goes, every cloud has a silver lining. The rain has its advantages, including that of creating unique memories in photos. But above all, rain is synonymous with romance.
When you think of the most romantic movies in history, scenes in the rain are a must. From Diamonds on a Couch to The Umbrellas of Cherbourg, and from Pride and Prejudice to Life is Beautiful, the list of romantic cult scenes is impressive.
The Lincà Notary Office can testify that beautiful photos were taken for civil weddings in the rain and under pretty umbrellas. So much so, that the newlywed couples considered that their marriage ceremony could not be more perfect or more romantic.
And as the old saying goes, "Rainy wedding, good luck". If you want to have your civil wedding outdoors, in communion with nature, do not let the vagaries of the weather hold you back. After all, your chances of getting a rainbow for your outdoor wedding, which is a symbol of happiness and a good omen, are much greater with a little rain.
Contact us now!